Powerful 3D Relief Sculpting & Editing
Sculptor is a creative sculpting and editing tool for 3D relief carving patterns. Quickly and intuitively smooth, smudge, and add or remove details to prepare patterns for carving.
THE TOOLS YOU NEED, THE EASE-OF-USE YOU EXPECT

CLEAN UP PATTERNS
Whether it's a scan made with your Scanning Probe, a pattern made with the Modeling Suite, or an image or pattern imported from elsewhere, these tools allow for quick and seamless editing to correct or alter the original artwork.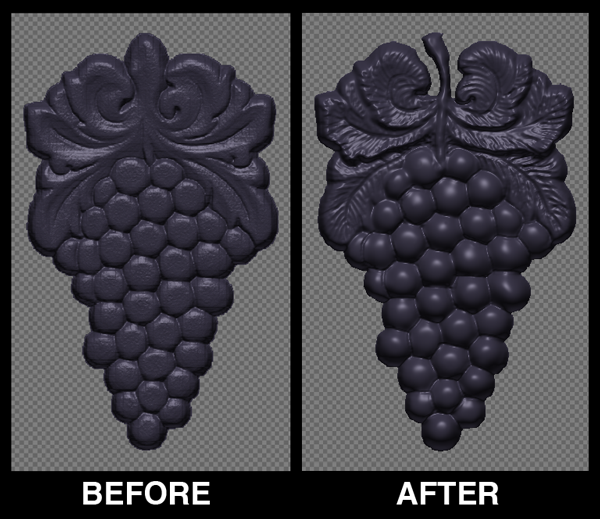 ADD OR REMOVE DETAILS
Sometimes, there are details you need in a pattern that you just can't get with the existing tools in Designer or other packages. With Sculptor, those details are a few mouse clicks away. Sculpt in fine details, raise and lower specified areas, erase parts you don't need, and so much more.
MAKE 3D TO RELIEF
With so many free 3D files available these days, it's nice to be able to transform them into useable relief patterns. With the Sculptor tools, we can make a 3D model flat and enhance it to bring out the important details.
NEW FEATURE - Edit Any Licensed Pattern
Any pattern purchased and licensed from the CarveWright Pattern Depot is now editable with Sculptor.
Import & Export Directly From Designer
Double click on a pattern you've created or Licensed from the Pattern Depot in your My Patterns folder and it opens in Sculptor. When you are finished editing, save it back to Designer for a quick and seamless project workflow. Scans, made with the Scanning Probe, will also open into Sculptor when downloaded from your memory card.
Compatible with Designer 3 or newer
Import & Export Directly From Sculptor
Sculptor works as a standalone software, meaning you can run it independently of Designer. This allows for files to be loaded straight into the software from a variety of formats, including: PNG, JPG, JPEG, BMP, OBJ, STL, SCP and PTR.
You can also export OBJ or STL files from Pattern Sculptor allowing for maximum compatibility with other 3D software programs.
IDEAL FOR STL CNC MODELS!