Simple & Elegant Vcarving
The Vcarve Suite is a set of tool add-ons for Designer that expands the vcarving capabilities of the software. Vcarving uses the 60° and 90° V-bits to plunge and shape. It includes centerline text, conforming vectors, vector groups, and edit outline.
REQUIRED BITS
A V-Bit is required for Vcarving.
V-bits will need a 1/4" Split Collet and 1/4" stop collars are recommended.
Vector Groups
The Vector Group tool allows vector drawings to be carved with a V-bit to create a chip carved effect.
SELECT CLOSED VECTORS
Select all vectors desired for the design and select the Vector Group icon.
CHOOSE AREAS
Using the selection options, choose which vectors are to be v-carved and with which V-bit.
THE FINISHED EFFECT
The software will render the v-carve exactly as it will look once carved. That's it, you're ready.
Centerline Text
The Centerline Text feature adds an additional Rout Mode in the Text Tool feature. This feature uses the 60° and 90° V-groove bits to follow the center of the letters for a clean engraved, v-cut look. The depth of the centerline is determined by the width of the text selected.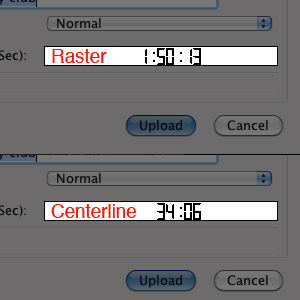 FASTER TEXT CARVING
The Centerline rout mode takes a fraction of the time to carve as in the standard raster mode. In some cases, minutes instead of hours.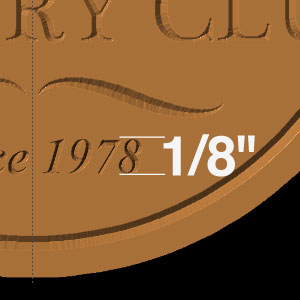 CARVE SMALLER TEXT
Carving text in the other modes limit how small you can get with it. Centerline allows for much smaller text for those trickier engraving projects.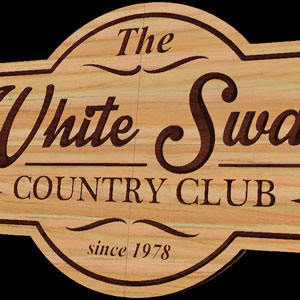 PLEASING LOOK
The uniquely pleasing aesthetic affect of Centerline compared with the other text modes makes it a dynamic addition to your text carving tools.
Conforming Vectors
Conforming vectors allow for v-bit routing along a carved surface. Without Conforming Vectors, these types of routs can only be made on the flat, top surface of the board.
CHECK THE CONFORM BOX
Select the vector you wish to conform, and check the conform box to apply the effect. You can conform over textures, domes, patterns, and regions.
CONFORM VECTOR TEXT
Any vector rout can be conformed including centerline or outline text.
CONFORM VECTOR ROUTS
It's not limited to just v-carving, but can be used with any of the vector bits.
Edit Outlines
Designer is equipped with a powerful auto-trace tool called outline pattern. Sometimes you may want to edit those outlines, so the edit outline tool converts those outlines into an editable vector.
OUTLINE PATTERN
The standard outline pattern produces a great tracing result.
EDIT OUTLINE
With Edit Outline, those traced outlines become a node based vector for any editing desired.