With CarveWright you
can Create Anything
You know that feeling of pride when you finish a project you've been working on and it's just right?  That moment when you say to your self, "I made this"? Our customers experience that in ways they never dreamed of before. The CarveWright CNC system allows you to create anything. Seeing what our customers make, is proof of the power and joy the CarveWright system can bring to your shop. What will you make?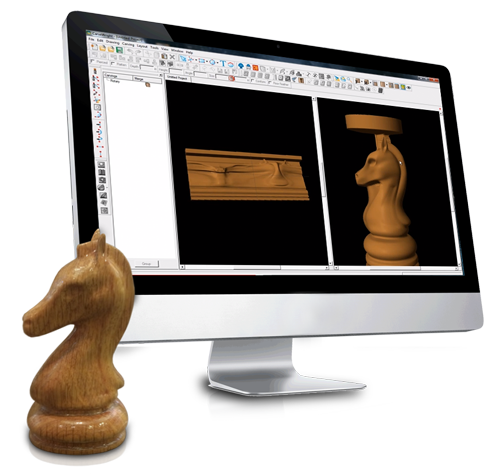 EASY TO USE
With the simple to use drag-and-drop software, and the automated setup of the CarveWright machine, you can easily create spectacular projects in no time. Have more fun with less learning time. Plus, we have add-on apps to enhance your capabilities and the largest carving pattern store in the world in the Pattern Depot with over 7,000 patterns and projects to download and create.

1. Design
Use the included Project Designer to create your project. This revolutionary software makes designing simple. Drag, drop, and arrange your designs with ease. With thousands of pre-made patterns available and the ability to create custom made patterns, the possibilities are endless.

2. Upload
Upload your project to the memory card. This card and the programmer come standard in the system and allow your computer to be kept away from the sawdust. CarveWright operates on most any Windows or Mac system. There is no need for a dedicated or extra-powerful computer.

3. Run
Load your project material into the machine. You have a variety of usable materials. Any kind of soft to hard wood, including plywood and MDF, heat resistant plastics, and even foams are acceptable mediums. Select the project from the on-board menu and the machine walks you through the quick setup procedure. Then, as the CarveWright works its magic, you can sit back in wonder and sip your coffee.

4. Finish
Now for the icing on the cake. The machine has made your project, and now it's your turn to assemble, paint, or stain to make it look great. The only step left is to show it off and enjoy the reactions of others.
LARGE PROJECTS, SMALL FOOTPRINT
The CarveWright utilizes a patented feed through system. Much like a desktop printer, it feeds the material through the machine, so even with the small footprint of this machine, you can produce very large projects. Design projects up to twelve feet long and fourteen and a half inches wide. Not big enough? No problem. With the Tiling Technique, you can splice multiple pieces together to create any size project.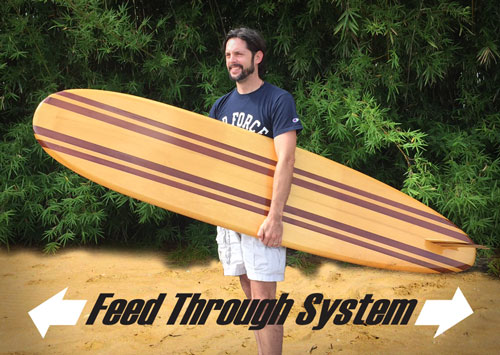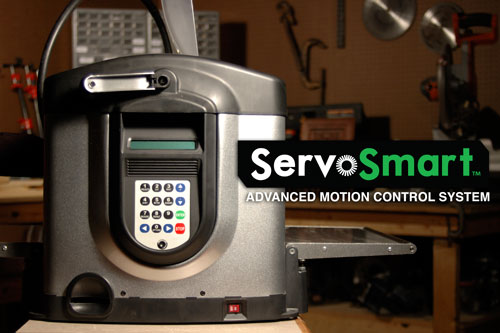 The ServoSmart™ controller is the most advanced CNC controller ever seen in an affordable CNC system. Five feedback sensors and automated setup give the CarveWright an undeniable edge. This intelligent feedback allows it to maintain accurate positioning and report problems instead of crashing. All other small CNC's currently on the market utilize stepper motors and open loop systems, which are blind to anything going wrong.
CarveWright's onboard computer also guides you through the set-up of every project. The machine measures your work piece, tells you what bit to put in, and locates all of its index points automatically. There is no programming, the system does it for you.
MAKE YOUR PROJECTS FASTER
With the feedback from our intelligent servo system, we are able to carve significantly faster and more aggressively than any other comparable CNC system. All our functions can can be done in a single pass at full depth and not loose position. Even when carving over 2 inches deep! You never have to program a single speed and feed rate either. Everything is pre-programmed for you, so you can design, upload, and carve.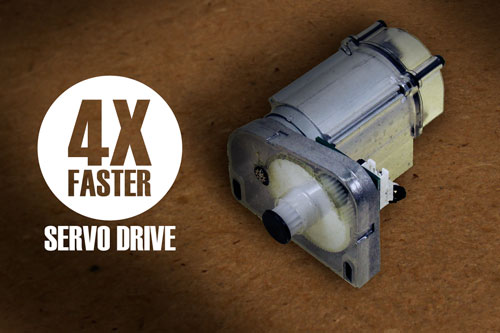 Our Staff of technicians are on duty to resolve any issues you have. We go to great lengths to keep everybody creating and getting the most of their machines. The CarveWright user's forum is also available with a wealth of knowledge and fellow users eager to lend a hand. If you need more personal assistance, our START U team has members all over the country ready to give you training and assistance.
Cutting Techniques
• Raster Carving
• Vector Cutting
Build Volume (max project size)
• 14.5 in (w) x 5.5 in (d) x 12 ft (l)
Max Encoder Resolution
• 0.00003 inch
Speeds
• Spindle – variable 20,000 RPM max
• Carving Speed – 6 ips
• Jogging Speed – 9.3 ips
Chassis
• Cast aluminum head and trucks
Body
• Painted steel and ABS plastic
Feed Through Belts
• Heavy duty rubberized PVC
Linear Bearings
• Double row precision roller bearings
CarveTight™ Spindle
• Integrated single piece hardened steel
• High speed phenolic cage bearings
• Single clamping paw
Servo Motors
• Mabuchi motors
• 1296 encoder counts per revolution
Software Bundle
• CarveWright Project Designer™
• 50 Included Patterns
PACKAGE DEAL SOFTWARE
• CarveWright Project Designer PRO™
• Free Project
File Types
• PTN, MPC, MPW
• Imports PNG, JPG, GIF, BMP, XPM, MNG
• Apps available to input STL and DXF
Operating Systems
• Windows (XP+)
• Mac OS X (10.6+)
Connectivity
• CarveWright memory card (included)
• USB Programmer (included)
Storage Temperature
• 32°–105° F
Operating Temperature
• 50°–105° F
AC Input
• 100V, 50–60 Hz
Product Dimensions
• 19.1 x 12.8 x 14.7 in
Shipping Package Dimensions
• 28.5" x 20.25" x 18"
Product Weight
• 80 lbs
Shipping Weight
• 85 lbs
ServoSmart™ Advanced Motion Control
• Five feedback loops for real-time sensing
• Fully automated project and bit zeroing setup
• Looped intelligence to warn of potential issues
• Anticipates problems to prevents damage
• Pre-calculates backlash and compensates
• Senses slips and auto-corrects