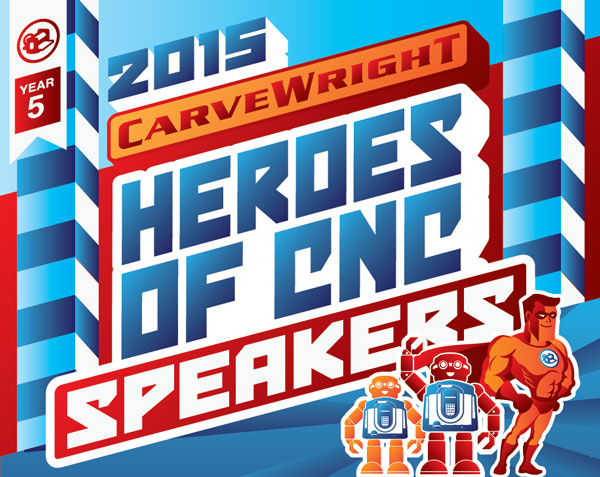 Speakers are listed in order of appearance
---
Steven Ramirez
Steven Ramirez is the owner of Smash Design, a Hollywood prop and set fabrication company. Steven first realized the need for new 3d fabrication methods while working on Hollywood movies sets for Film Director Robert Rodriguez at the world renowned studio Trouble Maker Studios, while there, Steven discovered the need for 3d CNC machines. This opened up new doors in the set construction world. It wasn't until working for a time at CarveWright, that his knowledge of 3d cnc all came together.
Steven's company Smash Design has since constructed numerous large scale projects for clients such as NASA, Saks 5th Avenue, Versace, Maersk, Cosentino, TLC, Warner Brothers, and NBC TV's Extreme Home Makeover Edition. He uses the CarveWright system and software to create and carve his 3d computer drafted models and themed environments, then polishes them with old world sculpting and finishing techniques.
---
Dick Bipes
Dick started woodworking as a kid in his dad's basement shop, cutting cartoon characters out of plywood with a scroll saw and painting them. He took a semester of wood shop in high school, but otherwise was self taught by reading woodworking articles and tackling more complex projects. He built his shop and skills gradually over the years, starting with a radial arm saw and a few hand power tools. Dick built many pieces of furniture for his home and for relatives, including tables, bookcases, and entertainment systems.
In 2009 Dick wanted to make a special mahogany dash panel for his classic boat, but did not have the tools to do what he wanted. A search led him to the CarveWright system, an affordable CNC machine and software that could do the job. This dash panel became his first CarveWright project.
Inspired by wood lake depth maps constructed by layering thin plywood sheets cut by laser, Dick figured his CarveWright could make these better and with more detail. He converted Minnesota DNR lake bathymetric data into grey scale images and imported them into Designer software to carve lake maps out of solid hardwood. These maps have been very popular in the northern Minnesota lakes area.
More recently, Dick has used the CarveWright system to design and build exposed wood gear clocks, and a novel wood digital clock. His clocks won first place in the 2013 and 2014 "Everyone's a Winner" CarveWright contests, and his digital clock Numechron also won a Second Place in a recent Instructables woodworking contest.
---
Michael Tyler
Michael enjoys the use of both traditional and contemporary Creative Arts mediums. A background in music led him to a career as a Music Technology consultant when computers were just beginning to be utilized for music composition, recording and publishing. In 1987, he founded one of the first mail-order music software and hardware companies in the country. All the while, his side interests included designing and building stained glass windows and lamps, deep relief sandblasting (in glass) and woodworking, to mention a few.
In January 2007, Michael added a new tool to his workshop – a CarveWright/CompuCarve CNC machine. He quickly developed a fascination for the creative potential this technology held and resolved to make the most of it. By April of 2007, Michael founded the CarveBuddy company to offer products and resources to others with similar interests.
What began as a casual hobby quickly grew into a full-time business, working with companies such as CarveWright, Vectric Ltd., ShopBot, Vector Art 3D, independent antique dealers, cabinet shops and more. Michael has produced hundreds of digital relief models, CNC woodworking projects and a host of informational materials for the benefit of CNC owners worldwide, including the CarveWright Tips & Tricks newsletters and the CarveWright Project of the Month subscription.
---
The featured guest speakers will be joined by some amazing staff members from CarveWright as well. 
Leading us off will be
Connie Ratisseau
. Connie is the head of customer service and is the champion of every CarveWright owner. She is relentless in her efforts in trying to keep every user carving and enjoying their experience. If you've spent time on our users forum, or ever called in, you're probably already familiar with her.
Next up will be Joe Lovchik, head of marketing and the author of the Build Blog. Joe's mission is to push the CarveWright and it's users to see all the possibilities open to you. He is our resident expert on the CarveWright software and creates most of our tutorials. If you want to know how to make something with the CarveWright, this guy can tell you.Then we will have Chis Rawls, our testing and repair engineer, who will wow us with his knowledge of the mechanics of the system. Chris can disassemble and reassemble a CarveWright blind-folded and upside down. He will be showing us the common maintenance and troubleshooting issues that users most need to know. You don't want to miss out on this.